Reunion this year was at Westport....
Twin Harbors State Park
The kids did the usual sand burials....
Sand got EVERYWHERE.....
A few days at the beach

Here's most of those who came.


Some had already come and gone.

Jim was in charge this year and chose this site. We were very lucky and got no rain! The area was spacious enough for all especially since Dalene and Renee had RV's and were in an area just adjacent and Jeff moteled it since they have a brand new baby. A highlight of this reunion was the raffle of a very large three-burner camp stove (which Patty and Bryce won) and a beautiful fully enclosed canopy room (which Dan won). Jim caught enough sea perch to be able to share samples around the entire camp and Marti's lovely family won the Nursery rhyme singing contest by knowing the most nursery rhymes under extreme pressure and singing them MOST wonderfully! Babies abounded this year! Tristan, Julian and Devon made their first reunions and Lucas walked for us all in his second only reunion, being just a wee one last year! 51 attended with 4 guests in the total. Crystal came for the very first time, bringing her friend Nick!! This was the 28th reunion.

Jim's group with Mother


Barb, Jim, Tristan, Bryce, Mother, Patty, ( Kyndal, Brooklyn front)

Alex and Josh


attempting to bury themselves.

Brandi and Julian


With an unidentified twin and Mother

Assorted nephews and nieces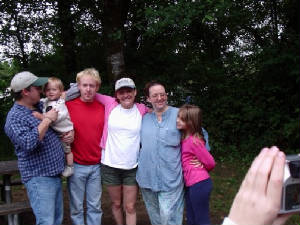 David, Lucas, John, Jennifer, Ariana, Liza Jane
Travis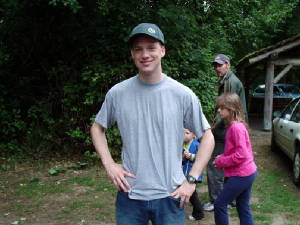 Lookin' Gooooood!
STILL WAITING FOR MORE PROMISED PICTURES TO BE SENT!